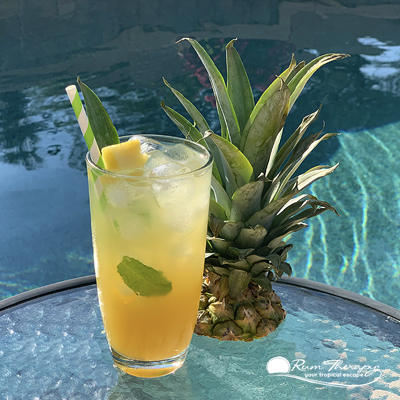 Pineapple and rum are frequently paired together. Think of the popular Caribbean rum drink, Bahama Mama, or a Painkiller, or perhaps a Caribbean Rum Punch. The combination of pineapple and a good rum make for a decidedly tropical tasting beverage.
We've always been fans of a good Perfect Mojito, and have been known to post a mojito variation or two (check out this Pear Mojito, Mango Mojito or Zesty Orange Mojito), so it was only natural to try a Pineapple Mojito. It took a try or two to figure out the best combination, but we think you'll enjoy this recipe. Cheers!
*We love bringing you amazing rum recipes! Our recipes may contain affiliate links to products that we use. If you click the link and make a purchase, we may receive a small commission (at no additional cost to you). Thank you for your support in helping us to continue providing rumlicious, tropical recipes!
Pineapple Mojito
Servings: 1
Add mint, brown sugar and lime juice to a tall glass and gently muddle to release the mint.

Add the rum and pineapple juice and gently stir.

Add ice, then top off with club soda.

Garnish with chunks of pineapple.
Check out more rum recipes here!
Copyright©Rum Therapy
Pictures and other content may not be re-used without written consent from Rum Therapy, LLC